MALE IMMIGRANT PRISON
1. View photos of the exhibition (use arrows or click/tap)
2. Watch the video component
This video contains text from letters collected by
No Están Solos.
"I don't want them [ICE] to keep separating families with their stupid laws. What they are going to do is get me out of here but in a black bag."

"No quiero que ellos [ICE] sigan separando familias con sus leyes estúpidas. Lo que van a hacer es sacarme de aquí pero en una bolsa negra."
Miguel, hunger striker
3. Read the essay component
One of the primary challenges facing immigrant prison abolitionists is the idea that prisons and detention centers are job and revenue creation programs for cash-strapped towns and counties. In
Golden Gulag,
geographer Ruth Wilson Gilmore argues that this get-rich-quick logic has often left prison towns with large debts, depleted resources, and few job opportunities for locals. The idea, however, can be hard to dislodge. In Raymondville, TX, where detainees once
set fire
to Willacy Detention Center after multiple reports of abuse,
some locals
still insist that the detention center brought economic wealth to the area. Nonetheless, Gilmore's critique forces us to ask: are immigrant prisons really that profitable and for who?
Here's how the money works. Private prison companies charge the federal government between $130 to 200 per day to house a detained immigrant. Counties rent unused prison facilities to private companies or take out loans to build new ones. The private prison companies in turn manage these facilities for ICE, "saving" the federal government money by neglecting the basic sanitary, medical, and nutritional needs of detainees. Counties take these risks with the promise of never-ending returns. After-all, isn't undocumented migration a permanent problem? Private detention companies in turn ensure that immigrant incarceration remains the key solution to a convenient problem by lobbying politicians and
funneling ICE contracts
into their districts, appearing to support local job growth while preying on the fears of the general population.
Would ending private prisons sever these financial interests? In
Migrating to Prison,
Cesar Hernandez notes that immigrant detention began as the private venture of steamship companies in the 1890s. Community pressure forced the federal government to take over these facilities, but this did not improve conditions. The government still sought to cut expenses and treat migrants like a cost of production. Later, as Hernandez notes, immigrant detention was temporarily "abolished" after the closure of Ellis Island by President Eisenhower in 1954. However, that same year, more than
1.3 million Mexican immigrants,
including many citizens, were deported under "Operation Wetback." Deportation replaced detention. As the call to abolish private and federal immigrant prisons becomes more popular, some advocates argue that we should also
abolish deportation.
4. Read letters from detainees
Despite its claim to be a "Welcoming City," the Greater Houston region has become
a major corridor of immigrant detention,
not just in Texas, but for the whole country.
Below are a series of letters written by men imprisoned at the Joe Corley Detention Facility in Conroe, Texas in 2014. The letters were addressed to
No Están Solos
and other activists and organizers working on their behalf. In the letters, detainees critique the conditions of their confinement and explain how the detention system extracts profit from their prolonged detention.
On March 17, 2014, the men detained at Joe Corley organized
a hunger strike
to call for more transparent information, an end to deportations and also ICE and law enforcement collaboration (287g). Their protest was inspired by poor conditions and a detainee hunger strike at the
Northwest Detention Facility
in Tacoma, Washington. Since then,
detainee hunger strikes
have continued to
grow and expand
as
knowledge spreads
throughout the immigrant prison system.
In Houston, after years of continued organizing, the 287g contract was terminated in 2017. In October of 2020, Harris County approved a
legal defense fund
for immigrants.
A translation is provided for the letters below. All names have been changed. The Conroe strike demands are found below the individual letters. Many of the demands have not yet been met.
Eliseo
.
.
.
.
.
.
.
.
.
.
.

Dear Mr. [redacted]:

Thank you so much for dedicating us your time, effort, and help.

For me they have mistreated me all the time they have had me incarcerated. I have passed hunger. I remember an entire day without eating in the Hielera, the 19th of March in McAllen. They also made us sleep on the floor in a cold room. What I need is someone who can help me get out of this prison because the judges give very very high fines. I have a credible asylum case and they gave me a fine of $12,000.00. I know that they gave me that so I wouldn't be able to pay and end up deporting me for that reason because I don't have that money. I need a form of help because I cannot pay that amount. I can't defend myself either because the judge wants to see a lawyer she says and if not, she won't let you speak a single word. There's people here that have the right to leave on their own word but NO ONE leaves by word, they are only interested in the money. I need to stay in this country because in my country I was threatened with death. Here they only play with me, they only lie and never tell you the truth. They only want money from the government and I have no crime here and I can't leave this place.

[signature redacted]


Estimado Señor [redactada]:

Muchas gracias por dedicarnos su tiempo Su esfuerzo y su ayuda.

A mi se me ha maltratado todo el tiempo que me han tenido encerrado he pasado hambre, recuerdo un día entero sin comer en la Hielera, el 29 de marzo en Mcallen, también nos hicieron dormir en el piso y en un cuarto frío lo que yo necesito es alguien que me ayude a salir de esta prision, por que los jueces dan unas fianzas tan, tan altas, yo tengo asilo creíble y me cedieron una fianza de $12,000.00; yo se que me la dieron asi para que yo no pueda pagarle y siempre deportarme por esa razón, por que yo no tengo ese dinero, yo necesito alguna forma de ayuda porque no puedo pagar esa cantidad. Tampoco puedo defenderme porque la jueza quiere ver abogado ella te dice y si no no te deja ni siquiera hablar; hay gente aquí que tiene el derecho de salir bajo palabra y NADIE sale bajo palabra, solo les interesa el dinero, necesito quedarme aquí en el país porque en mi país yo fui amenazado de muerte, aqui solo estan jugando conmigo, solo te mienten nunca te dicen la verdad, solo quieren el dinero del gobierno, no tengo ningun delito y tampoco puedo salir de aqui.

[firma redactada]


Esteban
.
.
.
.
.
.
.
.
.
.
.
.

The Dorms we are in are about 21 Blocks x 14 Blocks that are about 16x14 which is about a room size of 28ft x 18ft that also includes the restroom and shower area and the dining table that of course 12 inmates with lunch trays can't all sit and eat because of space. Sometimes or should we say all the time some of us have to eat on top of a trash can and also they feed us through the door hole and won't open the door that's how our cups come back half way full because the rest of it spills because they pass it through a hole shoot, instead of opening the door. There are rooms or dorms that are smaller than that... the waiting process for courts are terrible. We are living in a terrible condition here. There is a terrible Law Library here which we sometimes get to go once a week if lucky and also the computers are always down a[nd] we can never use them. The phone system is so [expensive] that we can't always be on the phone because of limited funds. There is no privacy in the restrooms it's like if we have no rights here. If we try to contact or should I say if we tell them we are going to call a... or have our family report them or call a news stations they take up our rights and lock us down in a seg or lock down area where we can't get in touch with nobody we would like for you to tell someone about this and help us... soon.

[redacted]
that is my sister's #
can you plz tell her about my situation thank you.

Los cuartos en los que estamos son de 21 bloques x 14 bloques que son de 16 x 14. Es un cuarto de 28 pies x 18 pies y eso incluye el baño y regadera y la mesa de comer que por supuesto no cabe para los 12 encarcelados con platos por el espacio. A veces, o más bien todo el tiempo, algunos tenemos que comer encima de un bote de basura. También nos dan de comer por el hoyo de la puerta y no abren la puerta. Por eso nuestros vasos vienen medio llenos porque el resto se derrama porque lo pasan por el hoyo. Estamos viviendo en malas condiciones aquí. Hay una Biblioteca de Ley terrible que a veces podemos ir una vez a la semana si tenemos suerte y las computadoras siempre están descompuestas y nunca las podemos usar. No hay privacidad en los baños. Es como si no tuviéramos derechos aquí. Si tratamos de contactar o si les decimos que vamos a llamar a... o si nuestra familia los reporta o si llamamos a las noticias nos quitan los derechos y nos encierran en segregación o en una área donde no podemos contactar a nadie. Nos gustaría que usted le diga a alguien sobre esto y nos ayude pronto.

[redactado]
Este es numero de mi hermana Por favor dígale de mi situación, gracias.


Filberto
.
.
.
.
.
.
.
.
.
.
.

Conroe TX
HELL TX
Friday 6th of June 2014

Dear friend [redacted]

Thank you so much for writing to us, my name is [redacted] and I wanted to thank you for your support; thank you because you give us a ray of light. The truth is before we received your letter, we were bad and personally I wanted to cry. And at that moment your letter came in! Thank you so much! Things are becoming dark here. But you have given use a breath of air and life because we were about to fall.

Thank you for real.

Truthfully it makes me sad how IMS or INS [ICE] treats us with art, tricks, and deception only to expel people from this country, it's really deplorable. You can talk with these people [redacted], they came out of Joe Corley and they can let you know their person; what happens inside here, how the guards mistreat us, the food in here is no good. The [agents] that come here from the federal prison complain that hispanics have no rights here, only to be punished, detained, and unfeathered [humiliated] in this detention center.

It's like a form of legal kidnapping because if you don't pay an exorbitant bond, of 10 or 15 thousand dollars, they detain you until your family pays. If not they deport you EVEN THOUGH YOU HAVE APPROVED ASYLUM.

Sorry, the truth is that I needed to get that off of my chest and I had someone to talk to.

Thank you for your letter.

We wait to hear more from you.

[redacted signature]


Conroe TX
EL INFIERNO TX
Viernes 6 de Junio 2014

Estimada Amiga [redactado]

Muchas gracias por escribirnos, me llamo [redactado] agradecerle por su apoyo; gracias por que nos da un rayito de luz. La verdad ahorita antes de que recibiéramos su carta, ya estábamos mal, yo en lo personal tenía ya ganas de llorar, y en eso, cayó su carta. !Muchas Gracias¡ Se están viendo las cosas negras aquí. Pero usted nos ha dado un soplo de aliento y de vida porque estábamos a punto de caer.

Gracias de verdad.

De verdad me da tristeza como el IMS o INS [ICE] nos trata a nosotros con arte y maña y trampa para solo expulsar a la gente de este país es realmente deplorable; usted puede hablar con estas personas [redactado], ellos salieron de Joe Corley y ellos pueden dejarle saber su persona; lo que sucede aquí adentro, como los guardias nos maltratan, la comida no sirve como los que vienen de la cárcel federal se quejan que los hispanos no tienen ningún derecho aquí, solo el de ser castigado[s], detenidos y desplumados en este centro de detención.

Es como una forma de secuestro legal, por que si no pagas un bond exorbitante, de 10 o 15 mil dólares, te detienen hasta que tu familia paga. Si no te deportan AUNQUE UNO TENGA ASILO APROVADO.

Disculpen, la verdad necesitaba sacarme eso del pecho y tengo con quien hablar.

Muchas gracias por su carta.

Esperamos saber más de usted.

[firma redactada]


Daniel
.
.
.
.
.
.
.
.
.
.
.

June 04 2014

Beforehand, I wanted to give you thanks for the 20 dollars. You don't know how they came to me thank you... it is nice to discover a letter... You do what you can and if one day I get out, it will be thanks to God and to you... I will do everything possible to stay calm mentally because the truth is I suffer a lot... The truth is I only went out once but I don't remember anymore because they don't always take you out here. Really I miss ☺ THE LIGHT OF DAY. I miss burning myself [in the sun]...

god - Bless you -
[redacted signature]

This is life -
1. When I receive a letter
[happy face drawing]
2. When I'm waiting for a letter
[waiting face drawing]
3. When the letter does not come
[sad face drawing]


Monday 30 June 2014

You know about my nephew, they can't find him... it's such a shame about - my country. It's hard to know that the only thing that awaits you is death.... I have a lot of fear and I don't know how I will die and sometimes I dream that they will kill me with a shot or knives. You don't know how awful it is to think that. I don't even want to think about what my nephew suffered or is suffering... you know I have a lot of fear, I can't defeat this fear... Tell me what to do to not have this fear...


Sunday 03 August 2014

You know, I'm making you a Virgen so you can put it on a pole and when you are in a march - you can take it out - and the whole world can see it. You can put the same thing that yours says, with my number and everything... Send my thanks to all your friends for supporting us. Tell them that [redacted] gives them thanks and God bless you all for all the good you do.


Junio 04 Del. 2014

Ante mano quiero darle las gracias por los 20 dólares no sabe como llegaron hacia mi muchas gracias... Pero es lindo descubrir una carta... si algun dia salgo sera gracias a dios y a usted... haré todo lo posible por estar tranquilo mental mente porq la verdad sufro mucho.... pues la verdad solo sali una vez. Pero ya no me acuerdo porq aqui no te sacan todo el tiempo pero la realidad extraño ☺ La Luz DEL Dia extraño quemarme...

god - Bless you -
[firma redactada]

Esto es la vida -
1. Cuando recibo carta
[dibujo de cara feliz]
2. Cuando estoy esperando carta
[dibujo de cara esperando]
3. Cuando no llego carta
[dibujo de cara triste]


Lunes 30 de Junio del 2014

Sabe lo de mi sobrino no lo encuentran... q lastima eso - Lo de mi pais es duro saber q lo unico q te espera es la muerte, y la verdad... es q si tengo mucho miedo no se como voy a morir a veces sueño con q me matan con un tiro o cuchillos no lo se sabe q es feo pensar eso. No quiero ni pensar lo q mi sobrino sufrio o está sufriendo... tengo mucho miedo no lo puedo bencer... Digame q ago para no tener miedo...


Domingo 03 de agosto del 2014

...Sabe le estoy haciendo una virgen para q ustd. la ponga en un palo y cuando ande en alguna marcha - la ponga - y la mire todo el mundo ustd. le pone lo mismo q dice la suya con todo y mi numero... dele las gracias a todos sus amigos por apoyarlos. Digales q [redactado] les da las gracias y q Dios les bendiga a todo por lo bueno q hacen...


Alberto
.
.
.
.
.
.
.
.
.
.
.

5/30/14

One memory I will never forget for the rest of my life.

One day I got up and the whole jail talked that on the 17 of March... there was going to be a hunger strike. We were all in agreement in my bunk. We were supporting. The third day, immigration came and told us that whoever didn't want to eat to the right and those who did want to eat to the left. Everyone moved to the left and didn't want to support. I think they were scared or were hungry. Well they took me to the so-called hole [el "pozo"]. The first few days in the pozo were very sad, you remember your whole life and I spent my time praying and drinking water and thinking about what was going to happen to me, if I was going to get out alive. I swear I started to cry. On the fifth day, I started to dream lots of things I would not like to remember. I met a man who was there in the same situation as me and we would yell from pozo to pozo.... He talked to me about his life and his family and I about my kids. I was already feeling bad and I asked God why he had forgotten about me... I do not wish what I went through to anyone, I was about to die when I finally got out. They picked me up at the door of the pozo. I was very weak and they handcuffed me. I told them not to handcuff me please because I was so weak and they didn't handcuff me when walking to the infirmary. I was there for a while and then they took me out and I met someone who was also weak. They asked me my name and I said [redacted] and they answered I am [redacted] my companion that I didn't know, he was the one I had talked to while we were in the pozo. I was very glad to see him alive...

A man that works in this place told me to eat and I said no. He made fun of me and asked me if I wanted a beer and kept making fun of me since I am in here for drunk driving. Well this is my story of the 4 days I spent in the pozo and 3 in my bunk without eating.


5/30/14

Un recuerdo que nunca boy a olvidar por el resto de mi vida.

Un dia me levante y se corio en toda la carcel que el dia 17 marzo... se iba a ser una huelga de hambre y nos pusimos todos de acuerdo todos los de mi bonke estábamos apollando a los 3 dias llego migracion y nos dijo los que no querian comer para la derecha y los que querian comer pa la izquierda todos se hicieron para la izquierda y no quisieron apollar pienso que tuvieron miedo O hambre pues me sacaron y me llevaron al mentado pozo los primeros dias en el pozo fueron muy tristes te acuerdas de toda tu vida me la pasaba rezando y tomando Agua y pensando en mi que iva a pasar conmigo si iva a salir con vida de ese lugar y les guro que me puse a llorar a los 5 dias en pese a soñar muchas cosas que no quisiera recordar conocí a un hombre que estaba en la misma situacion que yo inos gritabamos de pozo a pozo... y empezó una conversación es muy triste estar en ese lugar el me platicaba de su vida y de su Fam. y yo de mis hijos yo lla estaba mal y le dije a Dios que por que se avia olvidado de mi... a nadie le deseo lo que yo pase estube a punto de morir y por Fin salí y me pararon en la puerta del pozo muy debil y me esposaron y les dige que por fabor no me esposaran pues yo estaba débil y no me esposaron caminando para la enfermería estube un rato y luego me sacaron y me tope a uno que también estaba debil y me dijo como te llamas y le dije [redactado] y me contesto yo soy [redactado] mi companero que no conocia el era con el platicabamos en el pozo me dio mucho justo verlo vivo...

Un senor que trabajaba en este lugar me desia come y yo le desia que no y se burlaba de mi me desia no quieres una serbesa y se segia burlando pues yo estoy aqui por que tome manejando bueno esto es mi historia que pase en el pozo 4 dias y 3 en mi bunke sin comer.


Strike Demands
.
.
.
.
.
.
.
.
.
.
.
.

Through this communication, we, the detained at the Joe Corley Detention Center in Conroe TX, starting Monday March 17 2014, declare a hunger strike indefinitely as a way to pressure and protest the government of the USA and the Department of ICE for the following:

1- That deportations and the resulting separation of families cease immediately

2- That detainees be given a more just and fair treatment

3- That detainees be provided true and transparent information on each of the cases given that:

a. Many detainees are forced to sign their deportations under pressure and lies

b. Many detainees have been without resolution of their cases for more than a year

4- That the number of detainees per cell be reduced given that it is currently an unhealthy situation

5- That detainees should not be judged twice for things that happened before and were resolved in different state and county courts given that:

a. Many of the cases already received final judgment and were closed several years ago, in some cases over 15 – 20 years ago.

b. Many of the detainees are coming from local, state, and federal jails where they have completed their sentences and are handed over to immigration to be processed.

6- That local and state police stop cooperating with the immigration department

Attached are the signatures of those in the detention center.

All signatures were collected voluntarily and under no pressure


Por medio de la presente los detenidos del centro de detencion de inmigracion Joe Corley Detention Center en Conroe TX, a partir del día lunes 17 de Marzo del 2014, no declaramos en huelga de hambre indefinidamente como una medida de protesta para presionar al Gobierno de los Estados Unidos y al departamento de inmigracion, ICE por sus siglas en inglés en los siguiente:

1- Que se detengan inmediatamente las deportaciones y por lo tanto la separación de Familias.

2- Que se dé un trato más justo a los detenidos

3- Que se provea a los detenidos con información Fidedigna y transparente en cuanto a cada caso debido a que:

a. Muchos de los detenidos son obligados a Firmar la deportación bajo presión y mentiras

b. Muchos de los detenidos tienen más de un año sin definir sus casos.

4- Que se reduzca el número de detenidos por celda ya que se convierte en una situación insalubre.

5- Que los detenidos no sean juzgados doblemente por casos anteriores que Fueron resueltos en los diferentes condados y cortes estatales, debido a que:

a. Muchos de los casos Fueron ya juzgados y en su momento cerrados hace varios años incluso hace 15 o 20 años atrás.

b. Muchos de los detenidos vienen de pagar condenas en las cárceles locales, estatales y federales y son remitidos a inmigracion para que sean procesados.

6- Que la policía local y estatal deje de cooperar con el departamento de inmigracion.

Se anexan las Firmas de los detenidos del centro de detención

Todos las Firmas Fueron voluntarias y sin ninguna presión.


5. See the performance component
In December 2020, at the height of the COVID-19 pandemic, Sin Huellas members installed DETENTION NATION at Elgin Street Studios. In the space created, an ensemble of performers created the following Performance GIFs.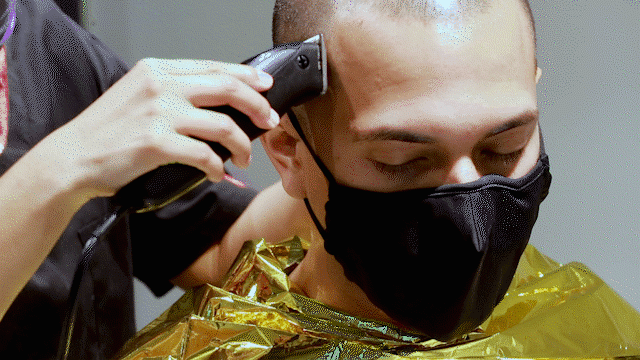 The videos and images in this installation space are based on letters and stories gathered from the immigrant prisons listed below. Some hold both men and women.